Everything you need to get to your next level, all in one place. Our High Performance program was designed to get the results that matter: throw harder, run faster, hit the ball farther.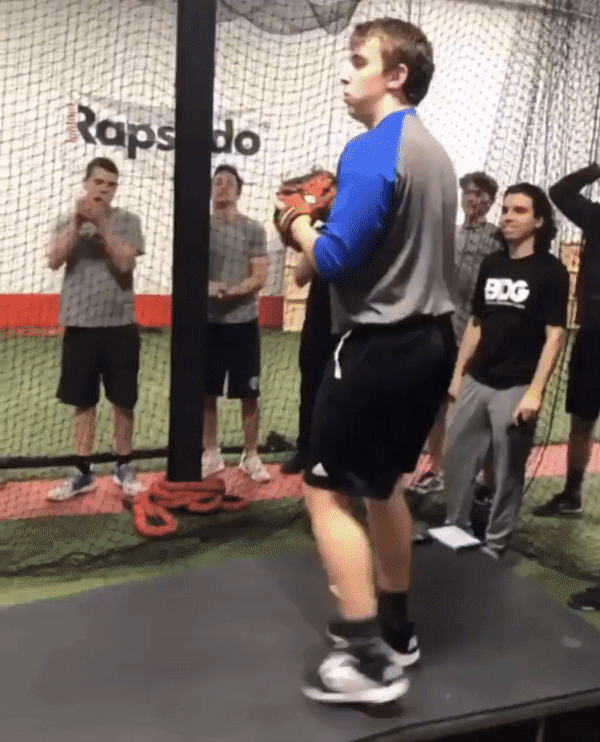 The High Performance program is for those who are willing to do anything to get better. It's not a walk in the park, a social event, or a place to just hang out.
Each player will undergo a detailed clinical, performance, and biomechanical assessment to establish individual needs. We analyze our findings, explain them to you, and develop a program specifically tailored to help you reach your goals.
Through the integration of a number of tools including strength and conditioning, weighted baseballs, performance therapy, and mobility work; we can maximize training adaptations and get you where you need to be.
Analyzed. Designed. Monitored. Delivered.
Don't let your talent suffer as a result of poor training.
Our High Performance program is for the dedicated High-School athlete looking to chase down their potential.
The program spans the entire course of the off-season, starting in October and running until the end of April.
Athletes will go through a mandatory assessment at the start of the program to identify limiting factors and serve as a baseline for performance metrics moving forward. To learn more about our assessment process click here.
2020/2021 Off-Season Groups / Time-slots  
For this coming off-season, we will be running 3 groups.
Group 1:
Mon & Wed | 6:00pm – 8:15pm
Sat | 10:00am – 12:15pm
Group 2:
Tues & Thurs | 6:00pm – 8:15pm
Sat | 11:15am – 1:30pm
Group 3:
Tus & Thurs | 7:15pm – 9:30 
Sat | 12:30pm – 2:45pm
 Session Information 
High Performance sessions typically last 2 hours and 15 minutes in duration. Players will train up to 3x a week at BDG (depending on the package purchased). The first half of each session will be focused on skill development, while in the second half athletes transition into the weight room for strength development.
Throughout sessions, athletes will work through their individualized training programs under the watchful guidance of our staff and in a competitive small-group atmosphere that encourages the athletes to push past what they are capable of achieving training on their own.
Each group will have between 12-15 athletes and an athlete to coach ratio of roughly 1:6. Groups will be comprised primarily of pitchers, but you can expect a handful of position players in each group.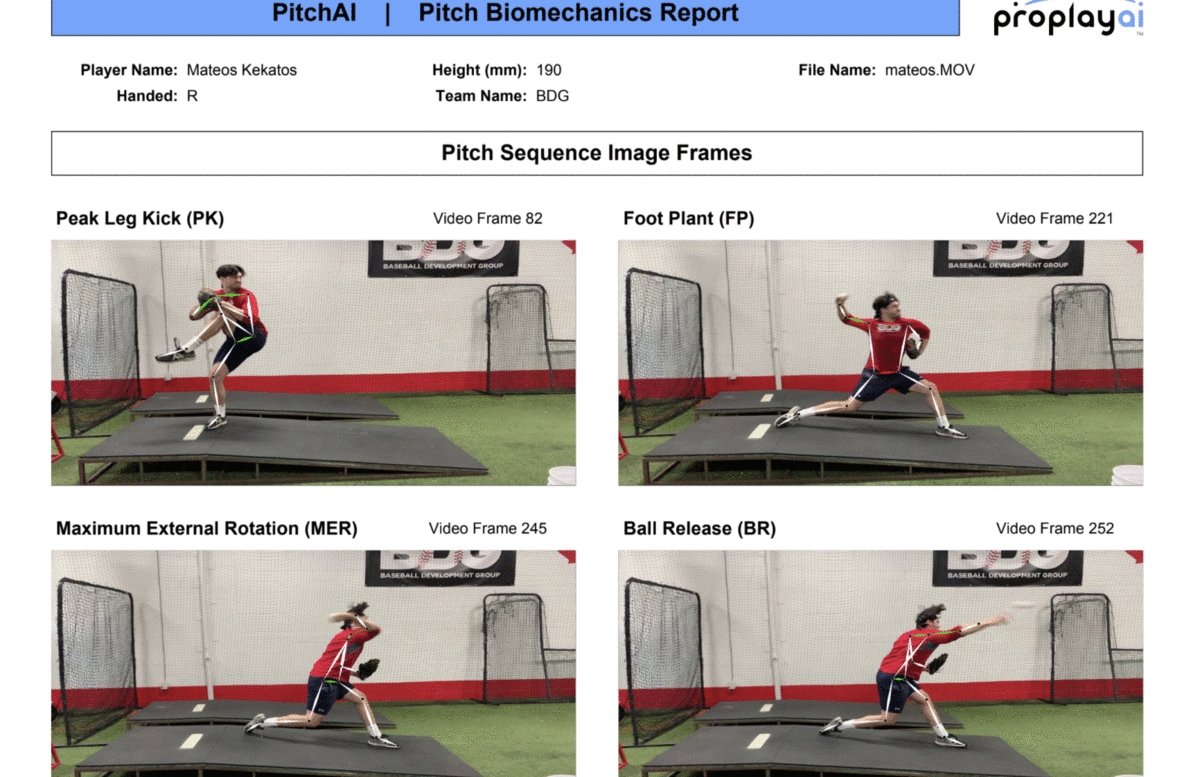 Sample biomechanics report generated from Pitch AI – a component of our comprehensive assessment every High-Performance athlete will undergo.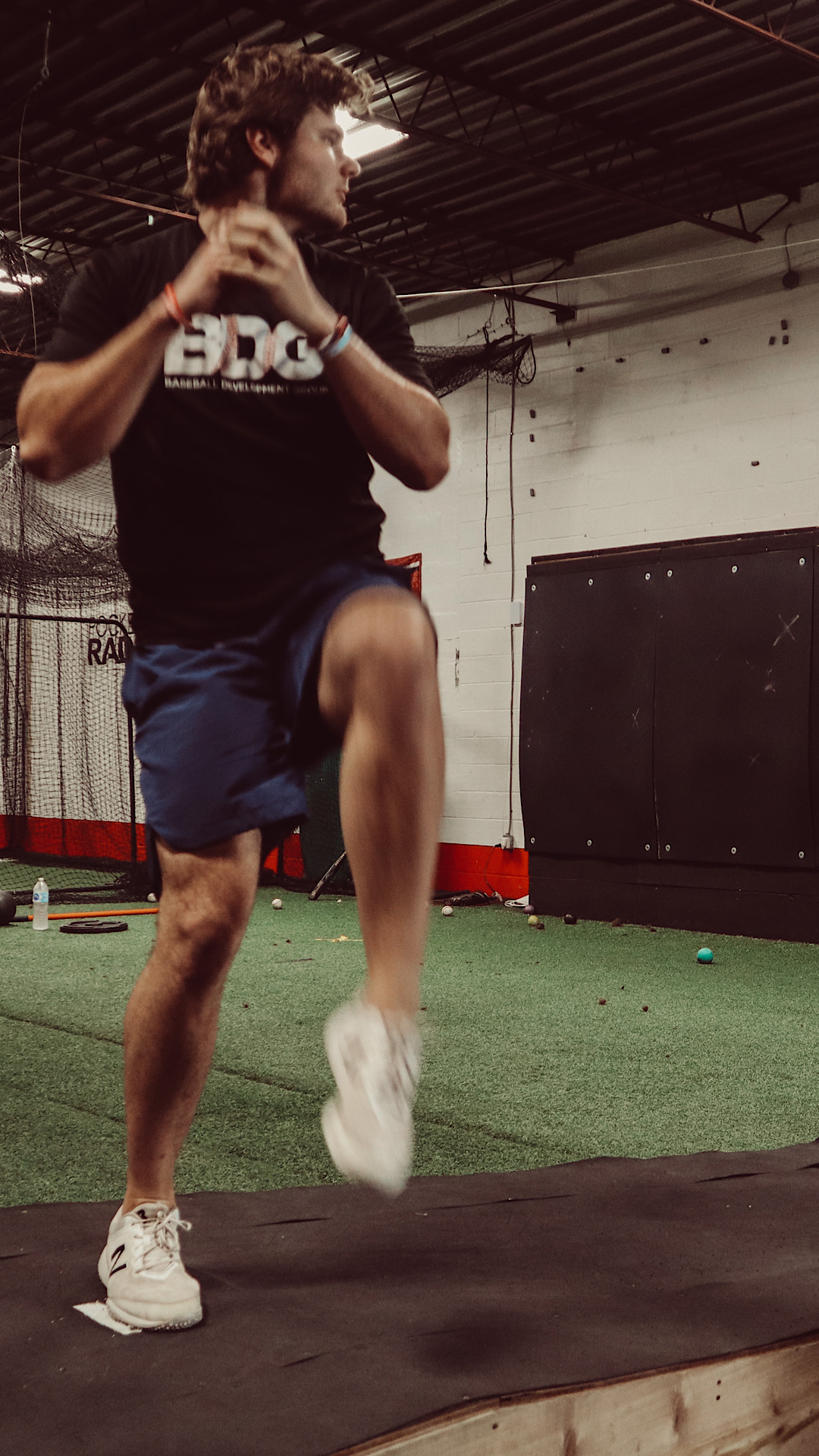 Pictured above: Landon Leach, 2017 37th overall draft pick by the Minnesota Twins. 
Everything the elite baseball player needs. All under one facility.
We believe that in order for players to maximize their development, they need access to technology, individualized programs, and hands on coaching. They need the skill coach, strength and conditioning coach, and therapist to be on the same page, delivering an integrated program. 
That is why we created the Baseball Development Group.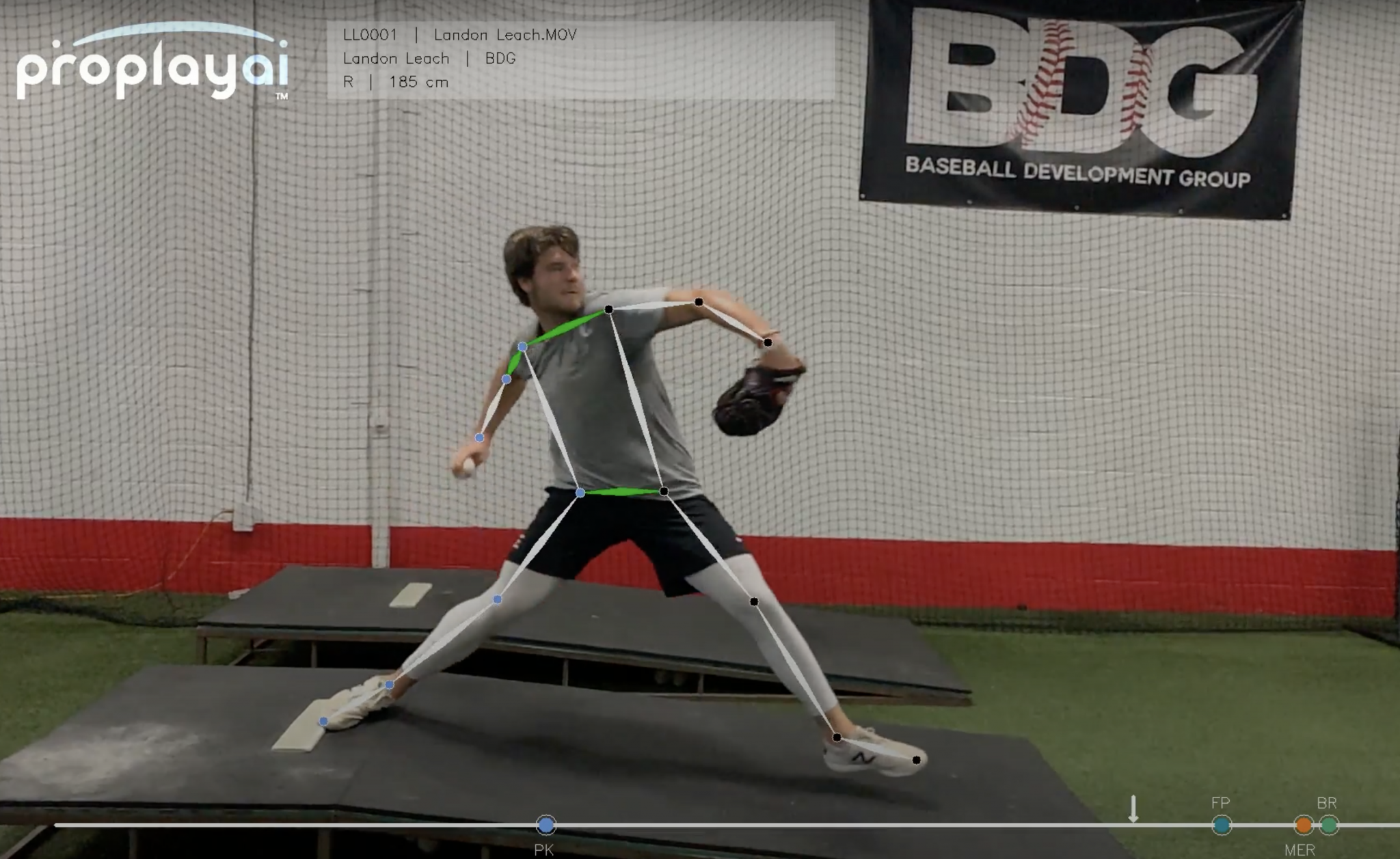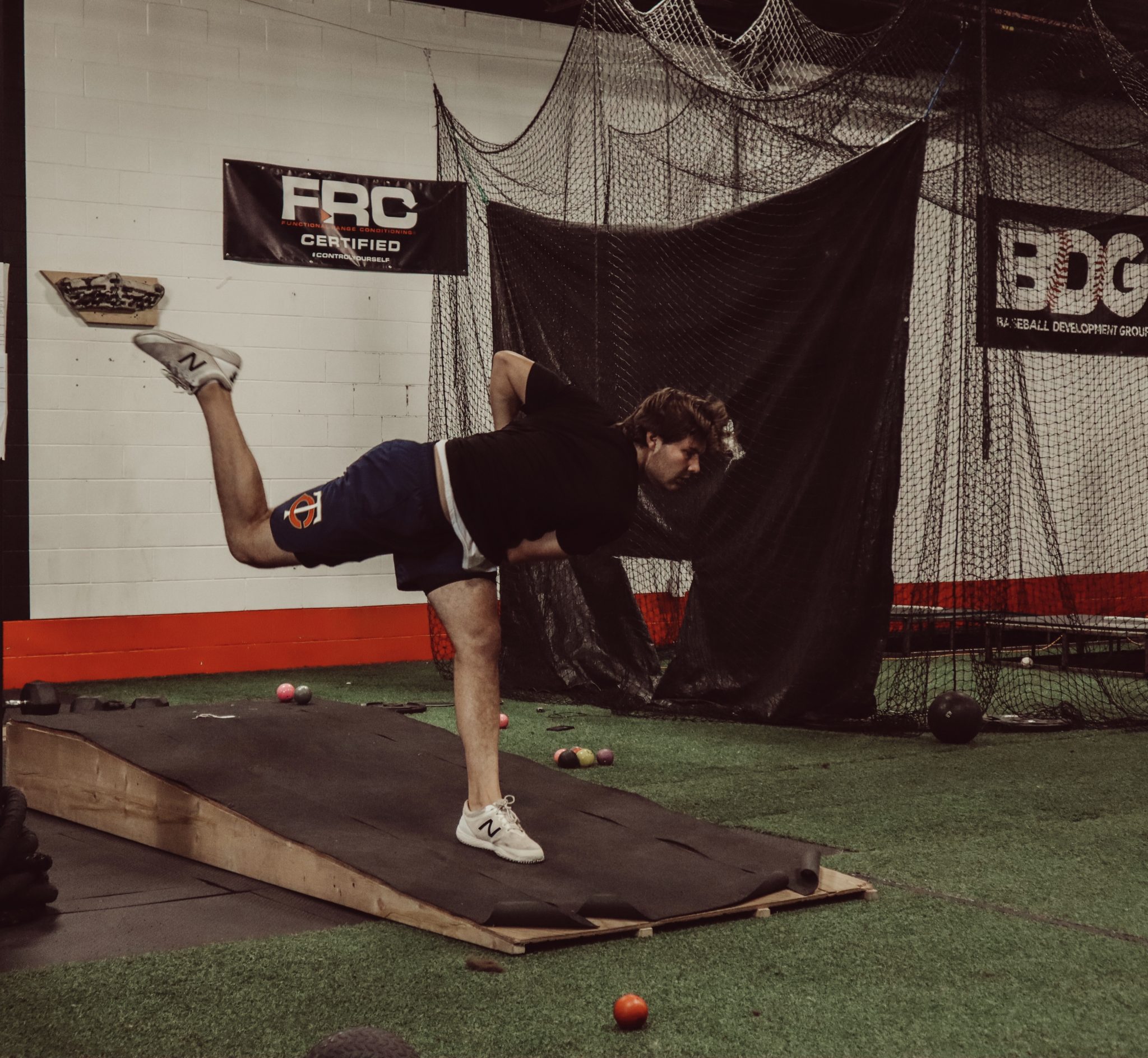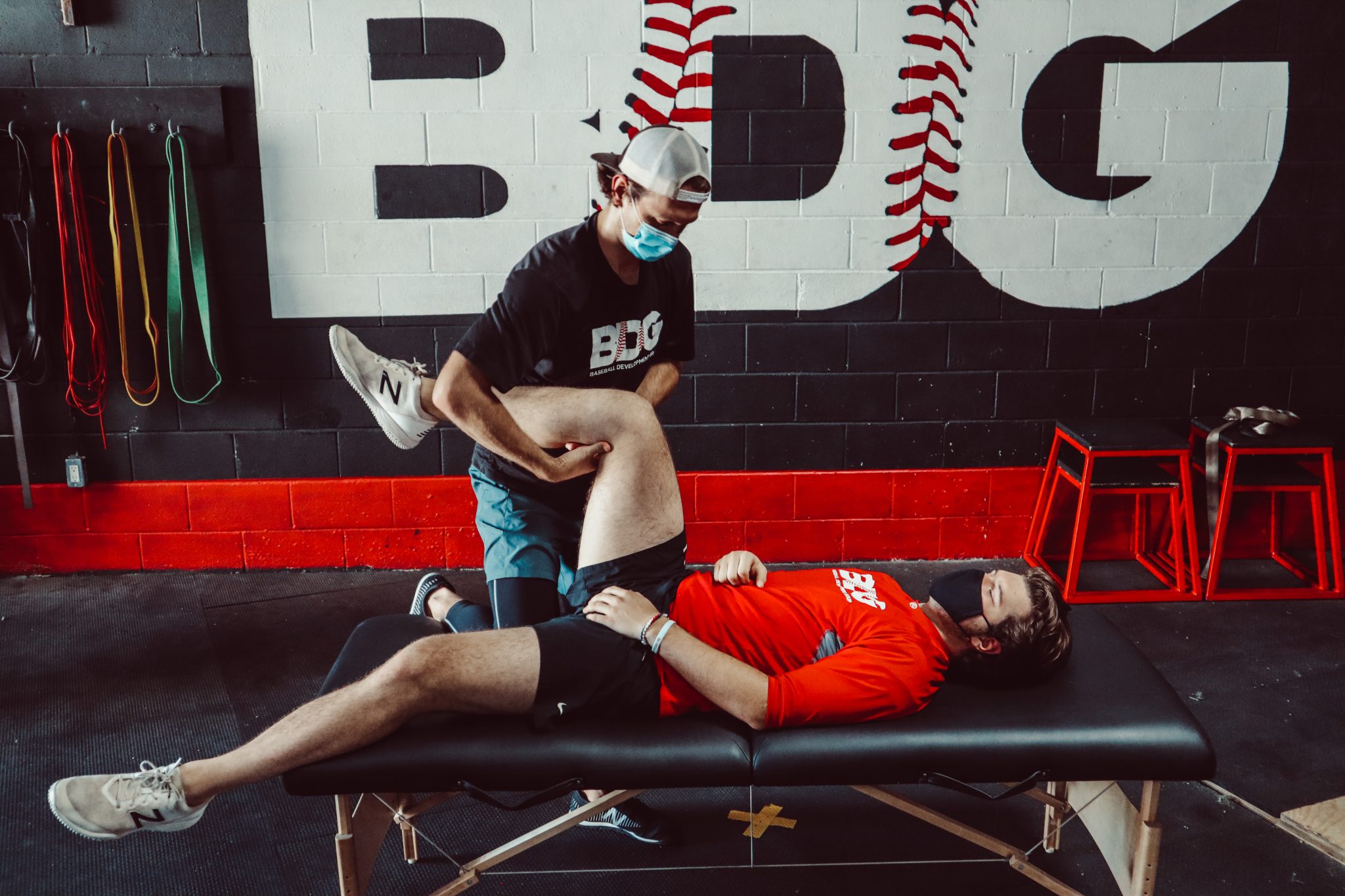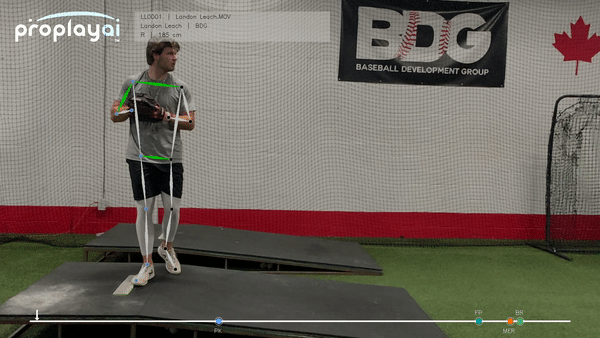 How much does the program cost?
We have three different packages available for High-Performance members.
The first and our most popular consists of 3 weekly training sessions running from Oct-April with a monthly cost of $375.
For athletes wishing to start in Jan, we charge $395/month (3 weekly sessions).
Lastly, for athletes looking for only 2 sessions per week in our High-Performance program, it is a $325 monthly fee (can start in either Oct or Jan).
How do I register?
All athletes new to BDG or who have not been assessed in 2020 will need to schedule an assessment.
After completing the assessment you will be asked to make a small deposit to reserve your spot and register for the grouping/time-slot of your choosing. 
To book your assessment and confirm your interest in the High-Performance program please email us at info@baseballdevelopmentgroup.com
Why is an assessment mandatory?
The assessment is the building block to all our programming decisions. 
By running athletes through a comprehensive assessment and taking the time to get to know the athlete, their history, current skills, physical makeup, etc, we are able to construct individualized and scientifically driven training programs that have unrivalled results.
As athletes enter the program, we can refer back to their assessment as a north star for where the lowest hanging fruit is to attack for their development.
As a High-Performance member, you will receive a free reassessment 6 months into training.
Do you only train pitchers?
We are known for our pitching development and that is our specialty. However, we accept hitters into our High-Performance program as well.
In each grouping, you can expect 10-12 pitchers and 4-6 hitters.
What does a High Performance session typically look like?
Sessions usually last 2 hours to 2 and a half hours.
The first 15-20 minutes is dedicated to warmup which athlete-specific mobility work from our assessment findings.
Next, athletes move into roughly an hour of skill-specific work (hitting or pitching). Here, athletes will work through their customized training programs in a competitive small group atmosphere under the watchful eyes of our coaches.
In the second half of the session, athletes will transition into the weight room where they will attack sport-specific strength and conditioning. Each athlete will have their own individualized program designed by our Director of Strength and Conditioning Dr. Tyler Dobos. Each program weaves mobility, speed and power into the sessions to develop a well-rounded athlete.
How does my team off-season training fit into BDG's program?
At BDG we try to be as flexible and accommodative as possible with athletes outside commitments (ie. team training). 
Our High-Performance groups run on alternating nights (Mon/Wed/Sat or Tues/Thurs/Sat) to ensure as few conflicts as possible.
If athletes are required to follow strength, throwing, etc, program by their team we can make accommodations for that.
Our number 1 priority is making our athletes better, whatever outside demands an athlete may have we can adjust our programs on our end to uphold that mission and satisfy your team requirements.
Experience the BDG Difference