The Baseball Development Group exists to create a new standard in baseball health, performance, & player development.
We are dedicated to helping both athletes and coaches in the sport of baseball realize their full potential, by providing a world-class athlete experience, and unique learning opportunities for coaches, trainers & therapists.
The BDG believes that optimal performance begins with optimal preparation.
And, optimal preparation of the elite baseball player requires a comprehensive model founded in principles of anatomy, physiology, biomechanics, & motor behaviour.
We understand that every athlete is unique, and thus every athlete requires an individualized approach. This starts with a thorough clinical assessment of the athlete's health & physical fitness, injury history, joint function & movement quality, and skill-specific movement analysis.
We use this information coupled with ongoing assessments & monitoring strategies to direct targeted interventions at specific limitations to health, function, and performance. Depending on the athlete's needs, this may include manual therapy, joint preparation, specific strength enhancement, or biomechanical adjustments.
Optimal preparation occurs when a team of professionals, unified under a singular model of health & performance, work together to deliver the best possible care.
That is the future of baseball performance.
Dr. Stephen Osterer
Co-Founder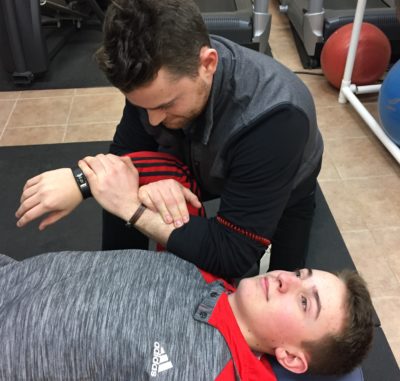 Dr. Stephen Osterer holds a Bachelor of Science from Cornell University. While pitching for the Big Red baseball team he developed a strong passion for manual therapy, rehabilitation and sports performance.
The concept of combining these led him to the Canadian Memorial Chiropractic College (CMCC) where he completed a Doctorate of Chiropractic graduating Cum Laude with clinical honours. Dr. Osterer has worked with athletes ranging from the amateur to professional levels aiding them progress along the therapy to performance spectrum.
He currently serves as a pitching coach and athletic development consultant for a number of teams and academies in the Greater Toronto area. Dr. Osterer is a firm believer in continuing education, staying up to date on the scientific literature and constantly evolving as a practitioner.
Dr. Chivers holds an Honours Bachelor of Physical Education from Brock University. Upon graduation he entered the Canadian Memorial Chiropractic College (CMCC) where he graduated Cum Laude and with clinical honours and a Doctor of Chiropractic. He is a Fellow of the Royal College of Chiropractic Sports Sciences after finishing a two year post-graduate residency program.
He has worked with athletes at the amateur, provincial, national and professional level. He consults with players in MiLB and MLB, as well as numerous baseball teams and academies in the Greater Toronto area. As well Dr. Chivers is a lead instructor for Functional Anatomy Seminars, a variety of continuing education seminars on the topics of soft tissue palpation, assessment, rehabilitation and manual therapy. He has also written numerous articles and has published papers in peer reviewed scientific journals.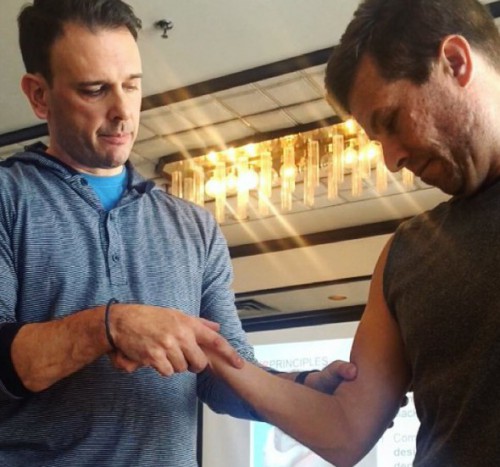 DC, FRCCSS(C)
Sports Specialist Chiropractor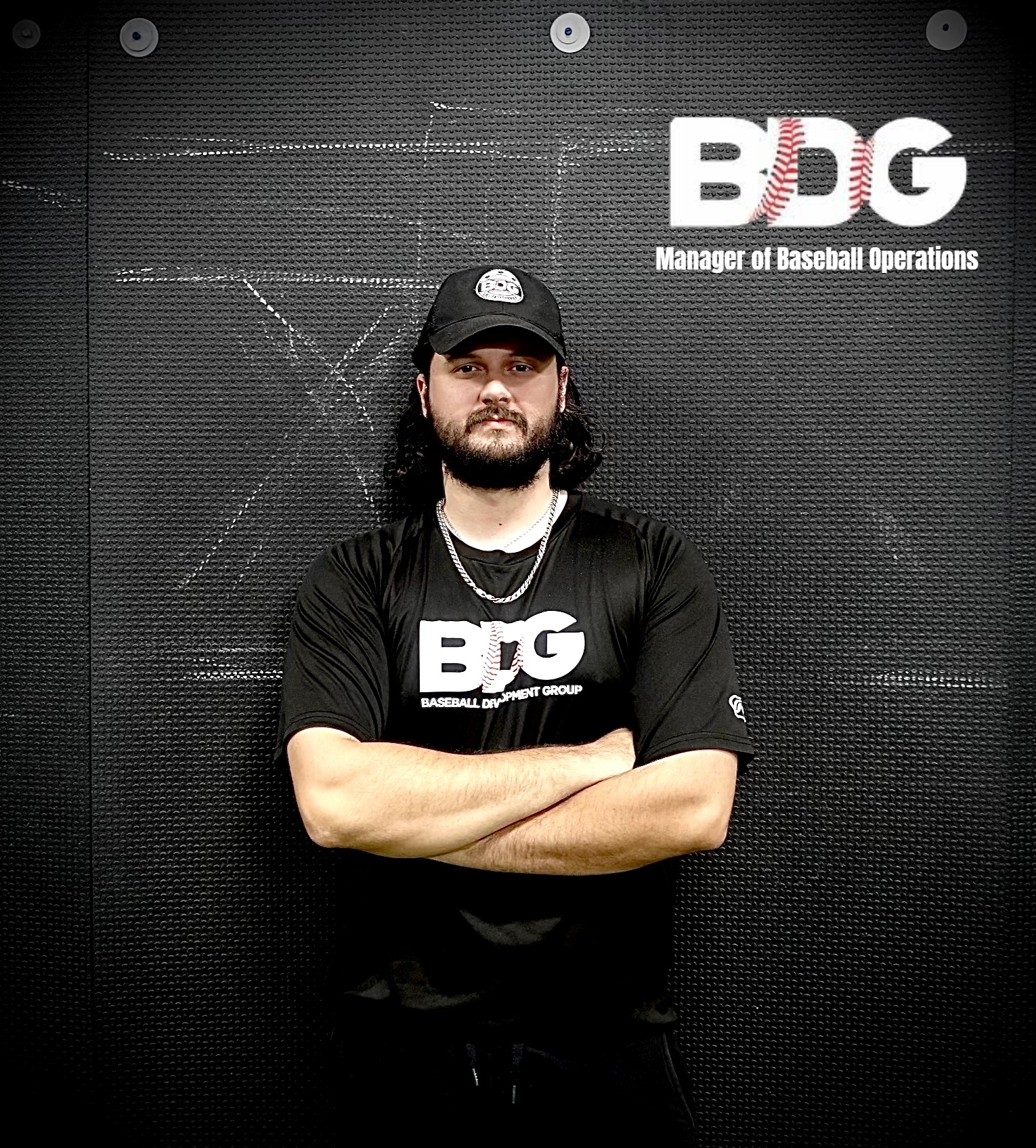 Mateos Kekatos
Manager of Baseball Operations
Mateos Kekatos- former BDG instructor, OUA Cy Young winner, and 90MPH club member- is returning after a two year stint of instructing and managing various high-performance baseball programs. Mateos brings a passion for coaching alongside an illustrious playing career to our staff and hopes to promote the ideologies that we use in-house to push BDG to the forefront of baseball development in Canada.
Mateos has collected an impressive set of accolades throughout his playing career:
– Two time member of the Canadian Futures Showcase and a participant in the Canada Cup.

– Represented Ontario on three separate occasions in nationals (winning it twice).
– Won an OUA championship with the University of Toronto.
– Won an OUA Cy Young (33IP, 4 CG, 4 shutouts, 37Ks, 3 BBs, 4ER, 1.09ERA, 0.64WHIP).
– Reached 94MPH off the mound
After playing three years with the Toronto Maple Leafs of the Intercounty Baseball League, Mateos signed a contract with the Ottawa Titans of the frontier league. He then transitioned to a coaching role post-Covid. He has also coached teams in North York, Leaside, and East York on top of his work at BDG.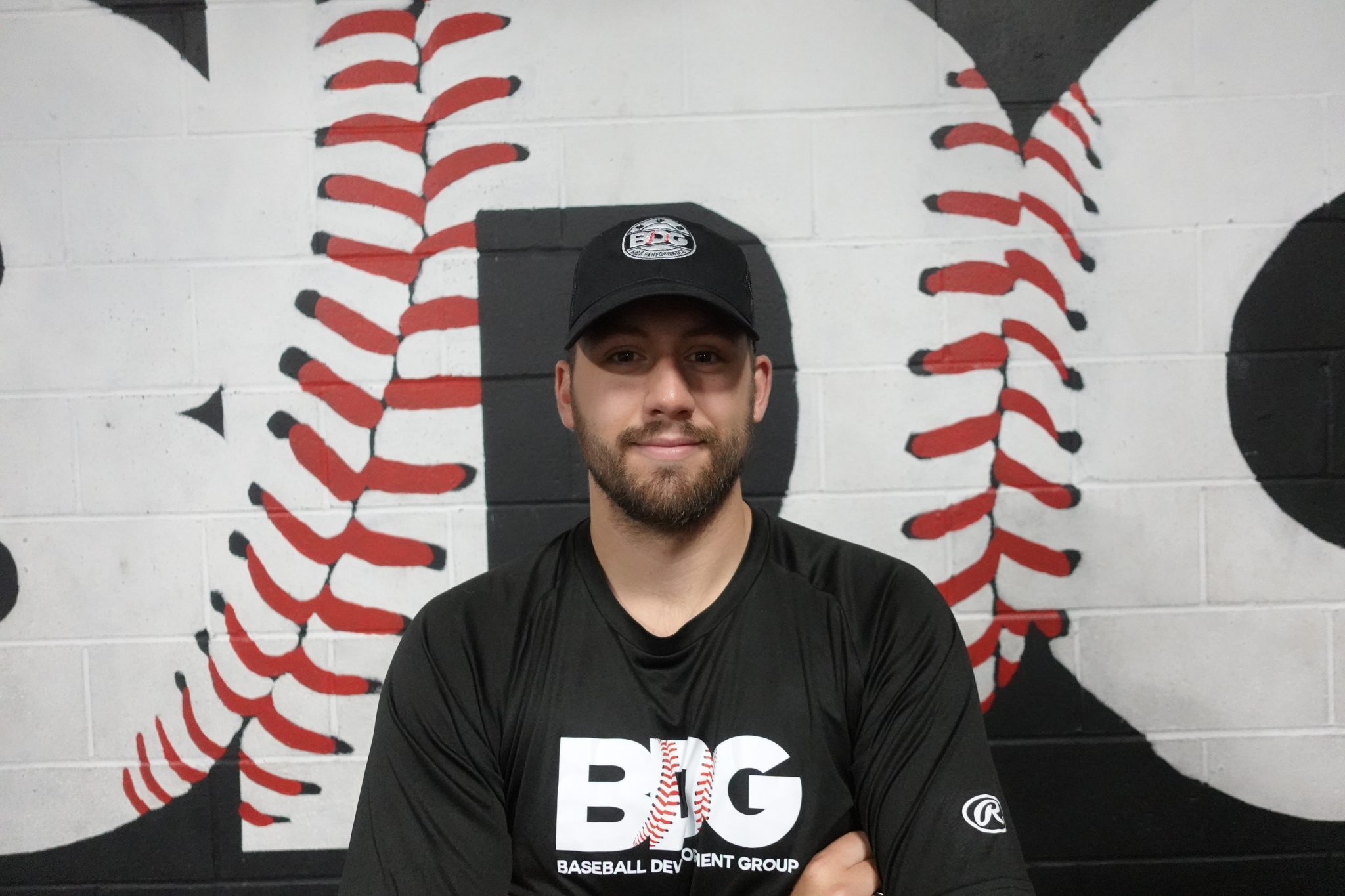 Ryan Faubert
Strength & Conditioning Coordinator
While growing up in Sudbury, Ontario, Ryan was an avid athlete on all fronts, trying various sports whenever he had the chance. He eventually found his way into baseball as a pitcher. From a small town to college baseball in California and British Columbia, Ryan's baseball career took him to many places. Unfortunately, in 2016, after dealing with chronic shoulder injuries, he had to hang up his cleats.
Ryan always wondered what he could have done to prevent this. How could he have increased his longevity as a pitcher and athlete?
Over the last 8 years, he has been coaching baseball players of all ages, filling roles such as Director of Performance/Pitching coach at The Baseball Academy and strength & conditioning coordinator at the Baseball Development Group. Throughout this time, Ryan earned a Bachelor of Science with a major in Kinesiology from Laurentian University and Doctor of Chiropractic. He also completed certifications as a Functional Mobility Specialist, Arm Care Specialist, and a Certified Strength and Conditioning Specialist (CSCS).
Ryan is passionate about training the next generation of athletes to optimize their short window of opportunity to get to the next level and increase longevity by being proactive in injury prevention.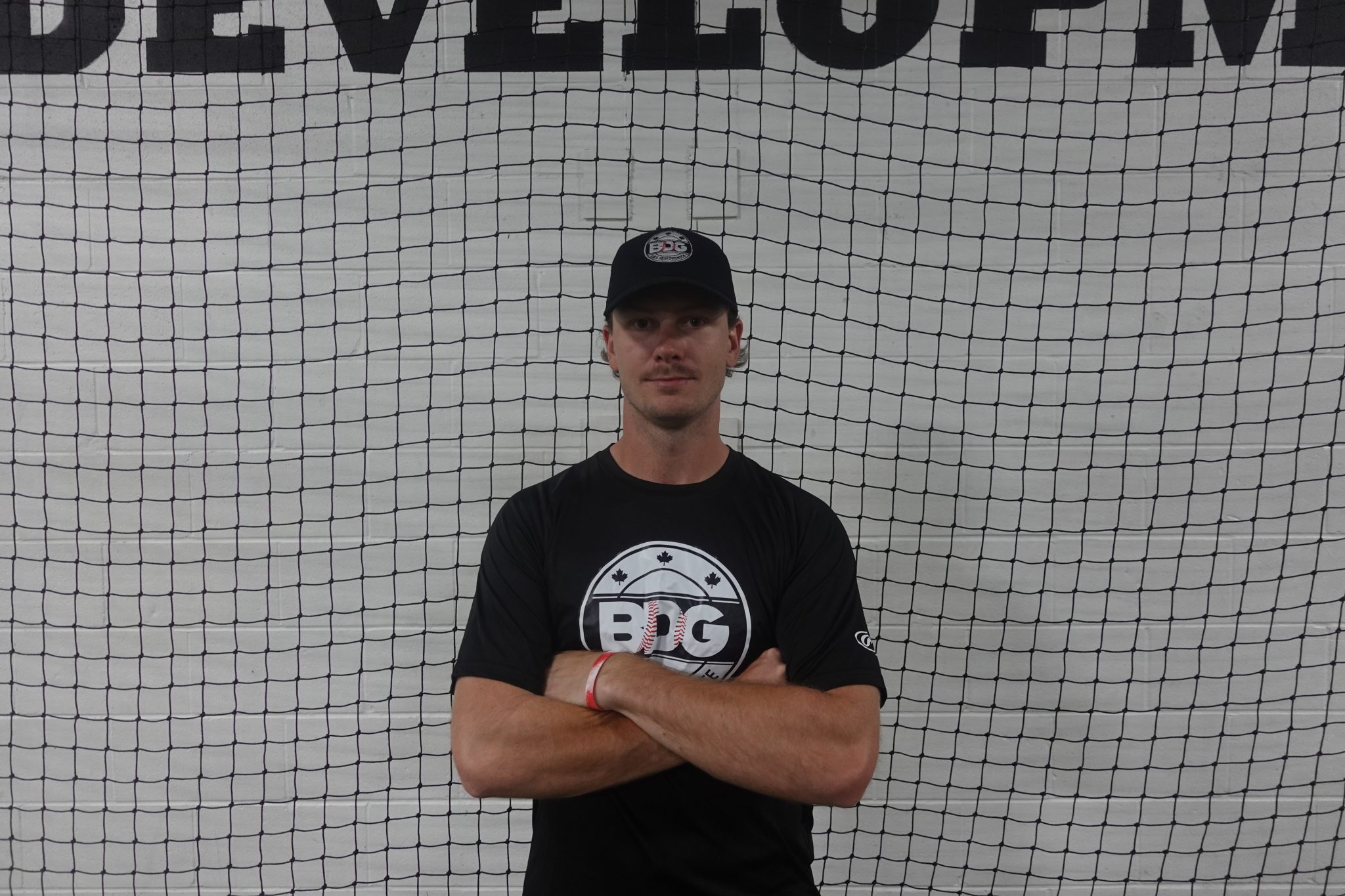 Brendon Dadson
Hitting Coordinator
Brendon Dadson is an Ontario native who has played collegiate, internationally and is currently playing professionally. Brendon has played in the Intercounty Baseball League (IBL), overseas in Germany and Australia, and professionally in independent baseball (Frontier & American Association). On the development side this is Brendon's fourth offseason working with players spending time as both a hitting and infield instructor. Brendon will be programming BDG's offseason hitting program as well as being an in-house hitting instructor. Brendon's Philosophy is creating elite moving hitters who have game tested hitting approaches to reach consistent success. This is obtained by working with and understanding how individual athletes move and think the game of baseball whilst enhancing what the athlete already naturally does effectively. Brendon's passion for growing baseball Canada translates into his instruction where he believes that every athlete that steps into the building can be helped to reach their potential as a player.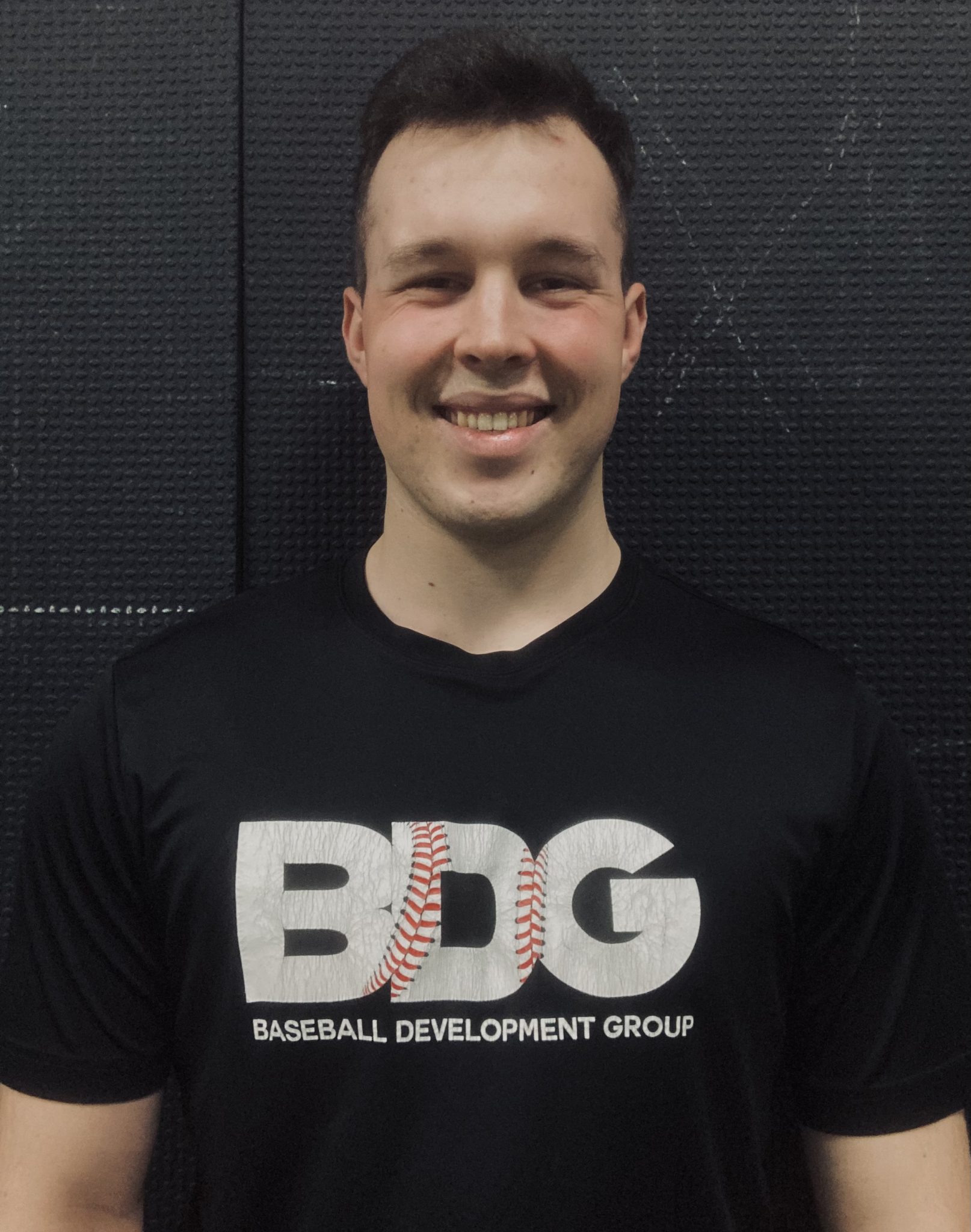 Noah Falkenberg
Pitching Coach
One of the original athletes of the High Performance Program, Noah has stepped into a bigger role as part of the BDG coaching staff.
As a younger ball player, Noah had the opportunity to play with a variety of Rep baseball teams, such as the Richmond Hill Phoenix, Newmarket Hawks, Thornhill Reds, and Leaside Leafs. In the 18U division, Noah played for the Team Ontario Astros and travelled to the United States, where he participated in prestigious tournaments in the U.S., such as Perfect Game and the NABF.
Competing against teams in the U.S. was a reality check for Noah, sparking his motivation to focus more on off-season development. After a season of constant arm injuries, Noah was recommended to Stephen Osterer, the founder of BDG, where he would eventually be a part of the first group of athletes to ever train in the High Performance Program at BDG.
After training at BDG for an offseason, Noah was fortunate enough to play for the Walsh University Cavaliers, a division 2 university in North Canton, Ohio. After attending Walsh University for three semesters, Noah realized that a change in environment and priorities was necessary to improve as a pitcher. He returned to Canada and transferred to Toronto Metropolitan University (TMU) where he is currently a member of the TMU Bold Baseball Team and also played for the Hamilton Cardinals in the Intercounty Baseball League in the summer of 2022. Noah resumed in-house training at BDG in the winter of 2020, when he also began coaching Youth High Performance.
Through the guidance of Stephen Osterer, Lennon Richards, Tyler Dobos, and other coaching and academic experiences, Noah has become an effective coach who uses data-driven and innovative coaching methods. He is a strong communicator who is proficient at implementing new, cutting-edge baseball technologies. Noah's current role is Pitching Coordinator for Youth High Performance (8-12)
and Futures High Performance (12-15). In this role, Noah helps facilitate the planning and execution of throwing programs and drills, and helps athletes with any questions they have about their training.
Noah's mission is to help build a strong foundation for young athletes, educate them about baseball culture in both the U.S. and Canada, and develop these youth athletes to be the future of High Performance at BDG.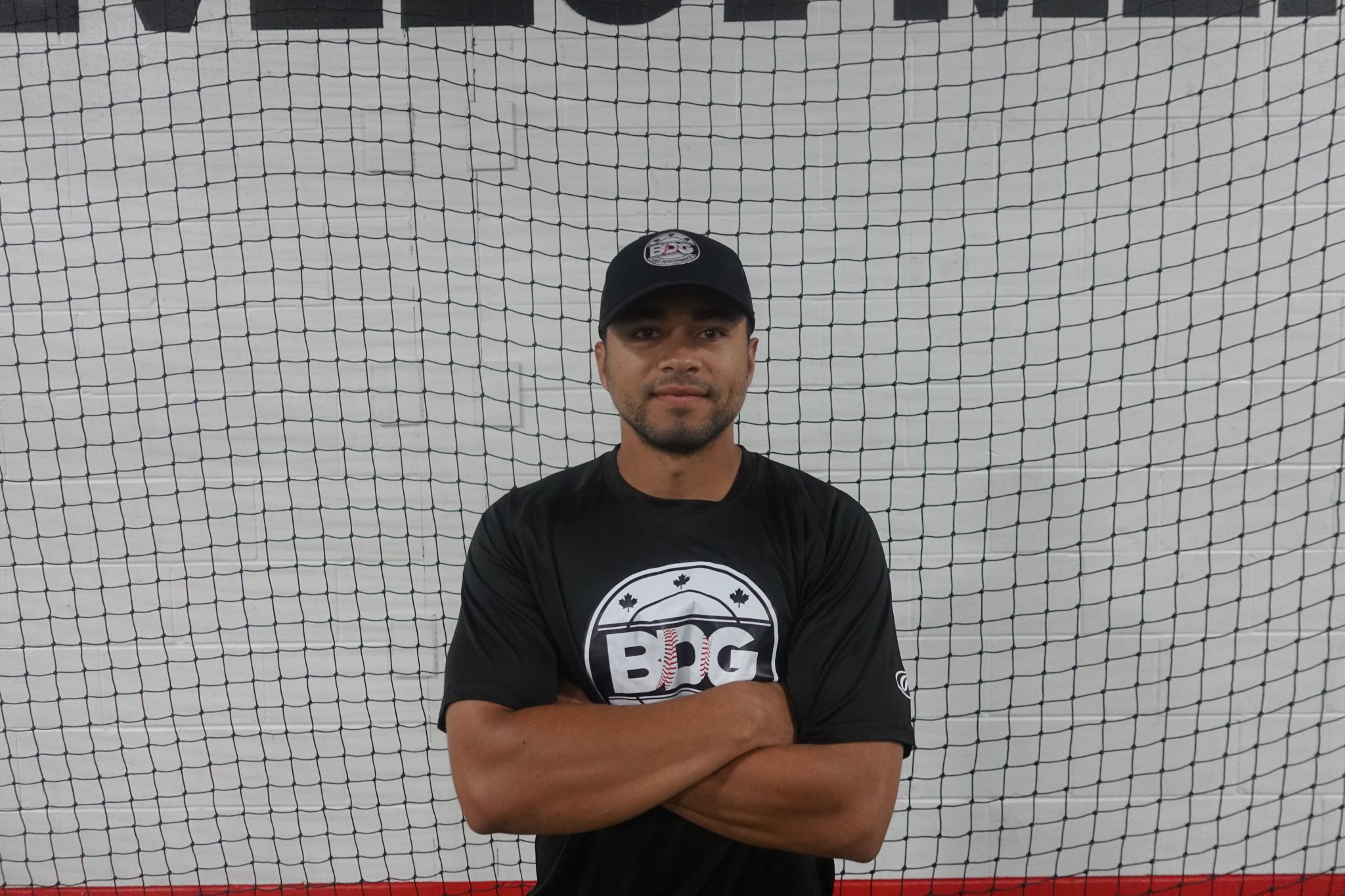 Greg Carrington
Hitting Coach / Strength & Conditioning Coach
Greg will be working as both a hitting instructor and a strength & conditioning coach. He has playing experience in the Intercounty Baseball League and with the Roswell Invaders of the Pecos League. Greg has also earned a Masters in Sport & Performance Psychology with a Concentration in Positive Coaching.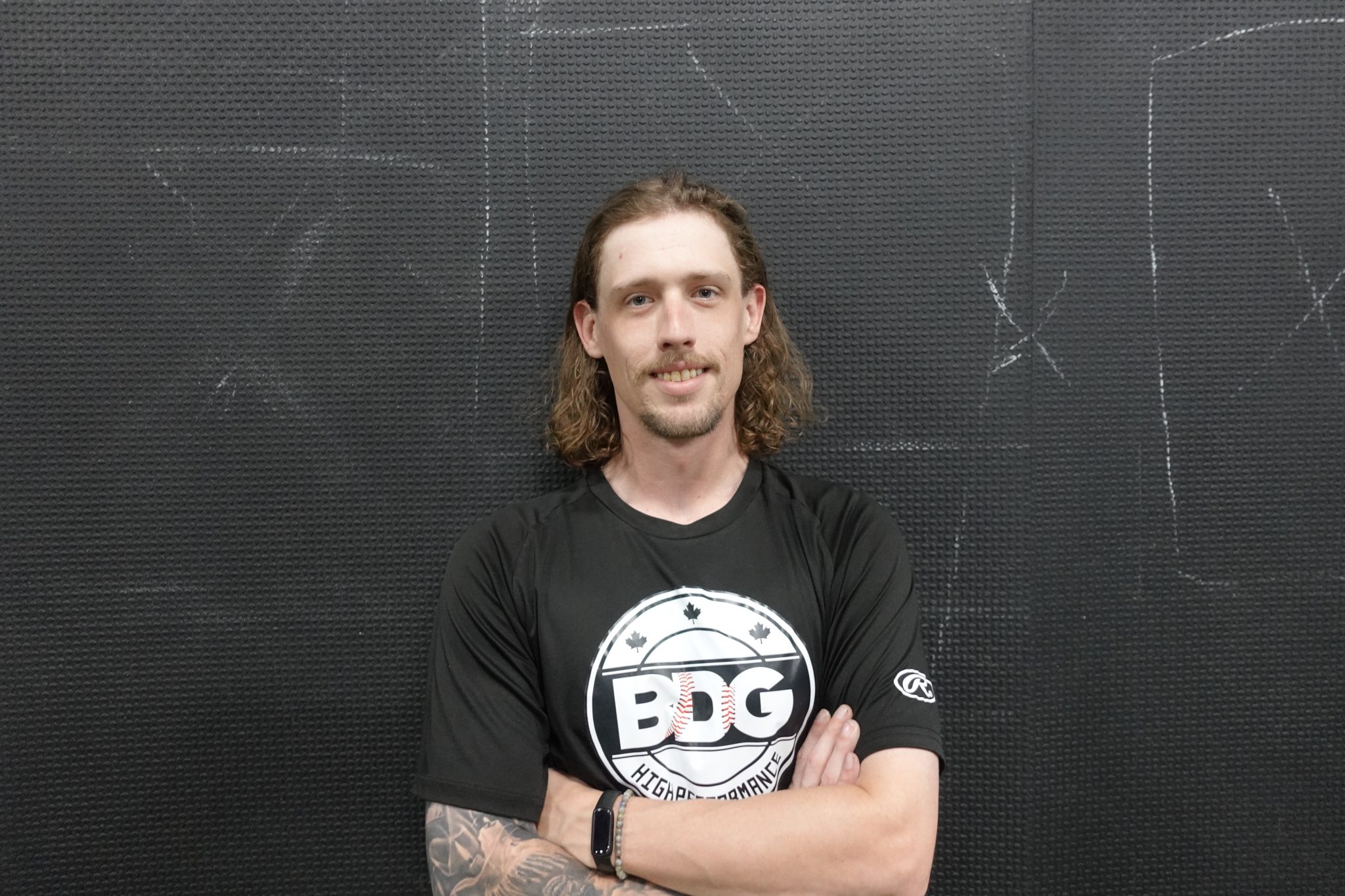 Rhys Tapper
Pitching Coach / Strength & Conditioning Coach
Rhys serves as both a pitching and strength coach at BDG. Growing up in Ancaster Ontario, Rhys began his baseball career at the age of twelve. Playing for the Ontario Nationals in high school, Rhys was able to get noticed by several collegiate teams. Soon after, he accepted a scholarship offer from St. Clair County CC. After injuring his ankle, he transferred to Brock University to continue his education and baseball career. Rhys continued on to win an OUA championship with Brock in 2014 and later won Brock Pitcher of the Year in 2016. He also played semi-pro baseball for the Hamilton Cardinals for two years at the back end of his career. 
Rhys broke into the coaching world in 2021 with the 15U Ontario Royals. He then began taking on a larger clientele for private strength and conditioning lessons. Primarily working with elite athletes, Rhys leveraged his experience into a job at BDG. He has since worked with BDG athletes of all experience levels, ranging from youth to professional.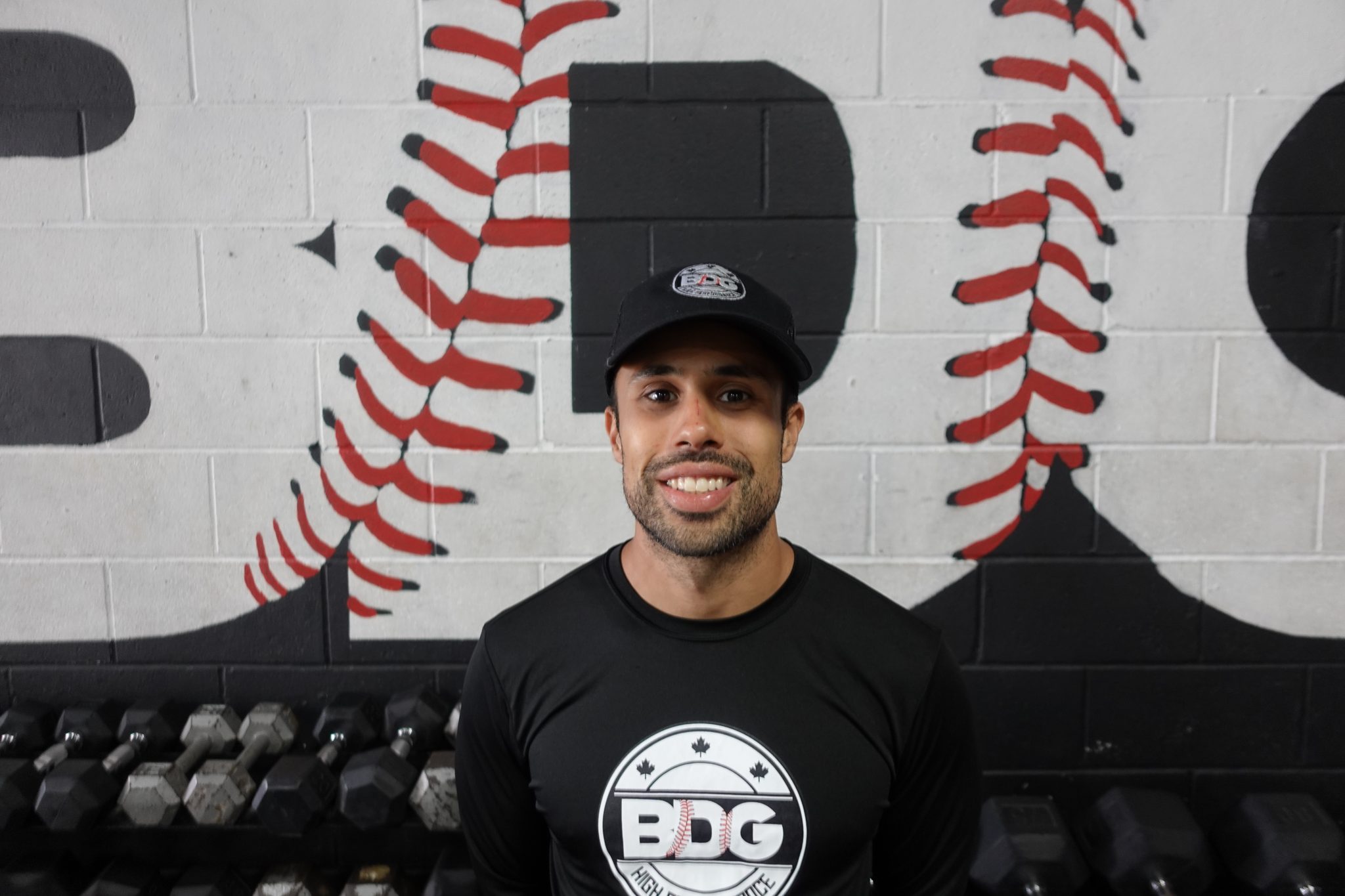 Abel Albanes
Strength & Conditioning Coach / Athletic Therapist
Growing up in Tegucigalpa, Honduras, Abel was an energetic, soccer-obsessed kid. Even after he moved to Canada with his family at the age of nine, his soccer obsession did not stop. Playing with various teams in his childhood and teenage years really sparked a love for fitness. This led him to George Brown College, where he discovered another one of his passions – educating and helping others in their fitness journey. He graduated from the Fitness and Lifestyle Management Program (FLMP) in 2012. 
Following this, Abel's personal journey has taken him to many places – from commercial gyms to community centres, to private clubs, to being a Spanish radio-show host, to corporate speaking, and now to owning and operating his own business. In 2022, he graduated with an Honours BA in Kinesiology and Health Science with a Certificate in Athletic Therapy from York University. Through this program, Abel expanded his knowledge and skills, deepening his love for human anatomy and physiology, learning how to help athletes and other members of his community through injury rehabilitation, and empowering his patients through evidence-informed practices.
Strength and conditioning and injury rehabilitation are areas that require precise attention to detail. Baseball at the highest levels is the same. As a result, Abel wanted to align himself with an athletics organization that valued the same attention to the fine details of their craft. At BDG he has found just that.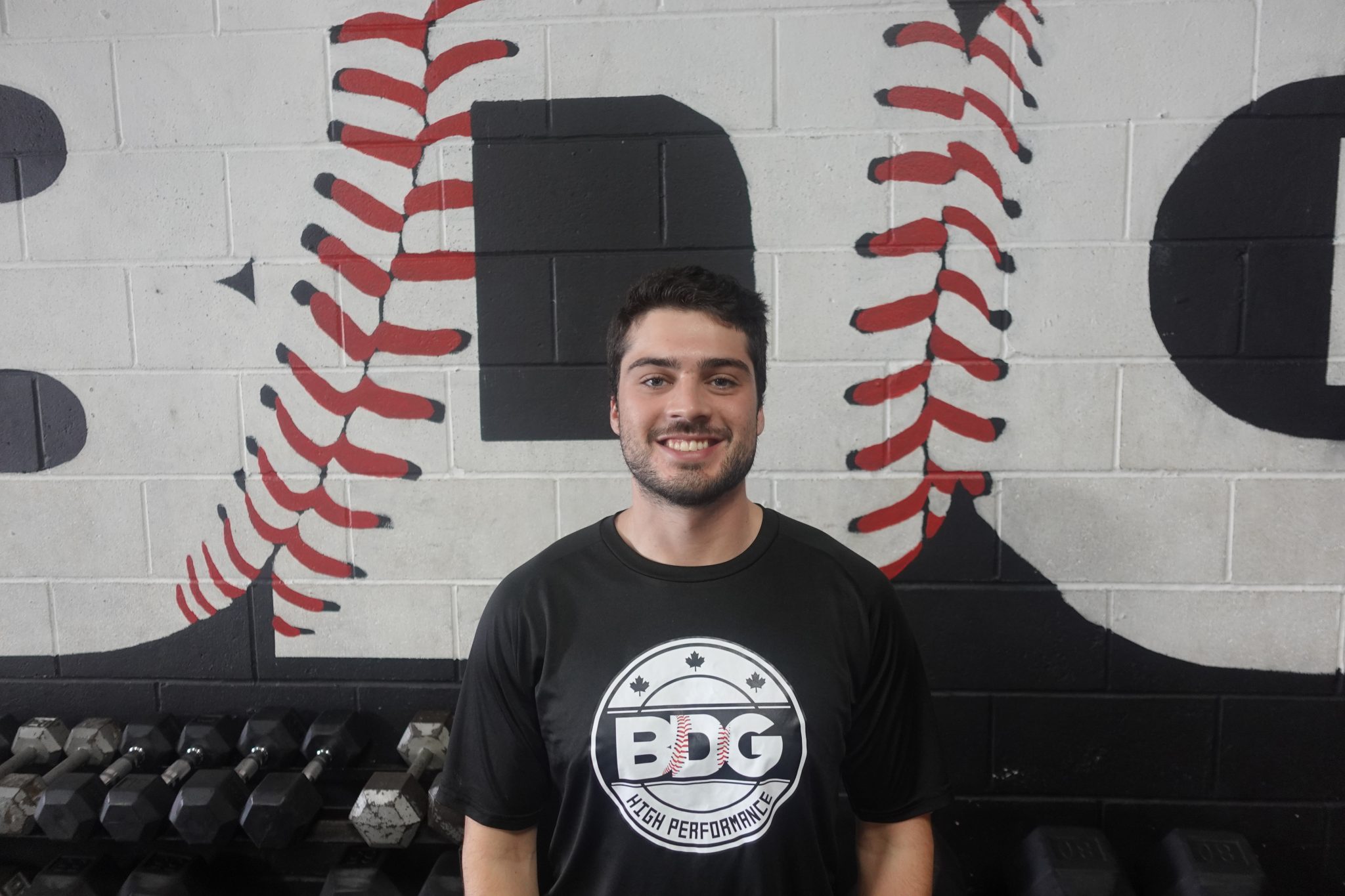 Patrick McCluskey
Strength & Conditioning Coach
Patrick is entering his 2nd year as a strength coach at BDG. His passion for athletic development stems from his time as an athlete himself. Growing up, Patrick played many sports but Hockey quickly became his main area of focus. During his last few years of playing, Patrick saw the discipline and work ethic it took to play at a higher level and was consumed with the idea of athletic development. His focus quickly shifted to coaching and helping other athletes reach their goals. 
Graduating from the Fitness & Health Promotion program at Niagara College in June 2022, Patrick was hired at a private training facility in Vaughan as a Personal Trainer and Athletic Development coach, where he currently trains elite level athletes in lacrosse, hockey, soccer and softball. 
Complementing that role, Patrick joined the team at BDG in the winter of 2022 and has been working with our youth, futures and high performance programs since. 
Anthony made the most out of his time at BDG by gaining experience with player development technologies and developed an R Shiny pitch design app to be used with our high school athletes.
Rich served as a Pitch Design Engineer at BDG. In this role, he helped deliver actionable insights to athletes and developed his own Pitch Design Comparision tool.
Bench joined BDG fulltime in April 2021 and went on to make significant contributions into the way we assess athletes with PitchAI. Catching the eye of the Texas Rangers with his research initiatives, Bench joins fellow BDG Alum Rich Birfer in the Lonestar state and will work in the Rangers biomechanics lab.
After founding BDG in 2017 and demonstrating to professional baseball the power of performance therapy and an integrated approach, Dr. Osterer accepted a position with Cleveland in the Winter of 2020.